There are a variety of ways to treat different cancers, but as with many things in health care, one size doesn't fit all. For example, some cancers respond well to surgery, some can be treated with chemotherapy or external beam radiation and some respond to a combination of therapies.
Then there are cancers that respond better to a specialized treatment called brachytherapy, an internal radiation treatment where doses of radiation are delivered at the site of a tumor. The goal is to target the disease while minimizing damage to surrounding healthy tissue. It is most commonly used to treat cancers of the female pelvic area, prostate, breast and eye.
"This source of treatment is highly effective in these types of cases. It reduces recovery time and comes with fewer side effects," said James McGee, MD, a radiation oncologist at OSF HealthCare Saint Francis Medical Center. "However, this therapy has significantly declined over the last 20 years, due to inadequate training and because many physicians are uncomfortable with the procedure."
In 2019, Jump Simulation engineers and interns developed a task trainer, a simulation device that radiation oncologists and residents could use to practice administering radioactive material for treatment of cervical cancer. Engineers are now working with physicians to produce patient-specific trainers for complex cases.
A welcome pivot in development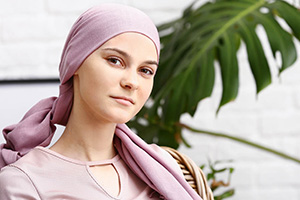 The Jump engineering team already had plans in mind to develop a variety of brachytherapy trainers for prostate, breast and other types of cancers. But a recent uterine cancer case at OSF Saint Francis prompted the need for a patient-specific device.
"We wanted to treat this individual's cancer with a form of brachytherapy that's distributed by a device we rarely use," said Mackenzie McGee, MD, a radiation oncologist with OSF Saint Francis. "I wanted the chance to not just practice the procedure, but to ensure this treatment would be a viable option for our patient."
Using MRIs of the cancer, Jump engineers printed a 3D replica of the anatomy and used silicone molding to develop the trainer, which also included the tumor growth.
"I was able to learn the ins and outs of the device and really see what I was going to need at the time of surgery, which included a second set of hands to manipulate the device appropriately," Dr. Mackenzie McGee said. "That's information I wouldn't have had and otherwise might not have scheduled a second surgeon for assistance. Because of the trainer, we were able to have a successful operation that was done in a very efficient, timely manner."
Drs. James and Mackenzie McGee will ask for custom trainers in the future for surgeries outside the ordinary. That's welcome news for engineers at Jump.
"When we initially began this project, I don't think we considered the opportunity to develop patient-specific trainers," said Tate Ralph, a simulation engineer at Jump. "Being able to pivot in that way has been exciting for the engineering team."
Jump engineers are working with Jump Research to collect data on the validity of the trainers. Results could lead to the development of a suite of devices to create a more robust brachytherapy training curriculum that could be used not just by OSF but at institutions around the world.
Benefits of brachytherapy
Beyond reducing recovery time and side effects, the use of brachytherapy is more cost-effective and requires a shorter course of treatment, according to a
study
published in Science Direct. It is also associated with improved survival rates — specifically among women with cervical cancer.
"The survival rate for women who receive brachytherapy as part of their treatment plan is 12% higher than those who receive external beam radiation alone, and complications to bowel and bladder are reduced by 20%," Dr. James McGee said. "The ability to go into the operating room and choose from a wide array of procedures like brachytherapy gives radiation oncologists a great advantage in patient care. It's a real skill that needs to be better taught and spread. These trainers provide a mechanism for doing that."
FEATURED AUTHOR

Denise Molina-Weiger
is a Creative and Digital Writer for OSF HealthCare, where she has worked since March 2015. She initially came to OSF to write about the work taking place at the Jump Trading Simulation & Education Center, one of the largest simulation and innovation centers in the world, and went on to become the Media Relations Coordinator for OSF Innovation which was developed to help the hospital system lead the way in transforming care. Before joining the OSF HealthCare team, Denise was a reporter for Peoria Public Radio for ten years, writing on everything from politics, housing and transportation issues to hospital care in the region.