Jump and OSF were delighted to be witness to the celebration of MATTER Chicago's founding, and join them as partners.
February 17, 2015
"I don't think that word means what you think it means."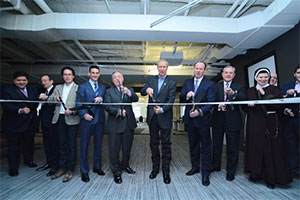 A classic quote from the [gulp] 1987 movie, "The Princess Bride." Here referencing the word, "inconceivable." As an aside, its a favorite film. One of the characters constantly refers to items he is seeing with his own eyes as "inconceivable."

After a time another states, "I don't think that word means what you think it means." I feel the same way about the word innovation.

Today we use the word "innovation" to describe a tremendous number of themes. New ideas, new technology, new ways of thinking, and so forth seem to be covered by the term.

Regardless of your definition, I think its safe to assume we all believe that "innovation" is essentially about doing something new - something that makes a difference.
MATTER - Making a Difference
On Friday, I was delighted to be witness to the celebration of MATTER Chicago. Our local press covered the event's press release as did the Chicago media. The presenter list included our Governor, a US Senator, the Mayor of Chicago, and the head of the American Medical Association among other notables. Also in attendance was Sister Diane Marie McGrew, O.S.F., President of OSF HealthCare.

Sister Diane Marie, Michelle Conger, Chief Strategy Officer for OSF HealthCare, and our team were there to celebrate as Founding Partners of MATTER. I was so proud to be a member of the OSF family and to see our Ministry leader (in Franciscan habit, mind you) in support of innovation in health care.
So often Catholic health care is seen for what it is not. Here is an example of what it is and can be. Catholic health care can do the important work of ensuring access to care and love to all those in need. Catholic health care is smart and fast -paced, and most importantly, it makes a difference - it matters.

OSF with Jump is helping the innovators at MATTER make a difference by providing an active simulation space within the MATTER offices. Our team will contribute our unique know-how in a new way that allows others to design and build solutions for patient care access, testing, communication, etc., etc.

This is a great moment reminding us that through collaboration and innovation, we are able to make a difference in people's lives. I think that is what MATTER means.
Featured Author



John Vozenilek, MD, FACEP is the Vice President and Chief Medical Officer for Simulation at Jump. Dr. Vozenilek provides central coordination and oversight for OSF HealthCare undergraduate, graduate, interdisciplinary, and continuing medical education programs.