JUL 1, 2021
The Jump Trading Simulation & Education Center and our Mission Partners played a critical role in deploying the Pandemic Digital Response Hub to manage potential cases of COVID-19. Members of the team not only helped set up the center in three days, they also participated in the Digital Health Worker program to safely care for people at home.
At the same time, we had to work behind the scenes to ensure clinicians and students were getting the practice they needed to fulfill training and continuing education requirements. That included brainstorming ways to deliver quality learning opportunities while adhering to restrictions and guidelines by the Centers for Disease Control and Prevention.
With simulation specialists taking the lead, they developed on-site learning protocols, adopted digital platforms and used teleconferencing to serve as many learners as possible — all without sacrificing the world-class learning experiences we are known for.
Getting creative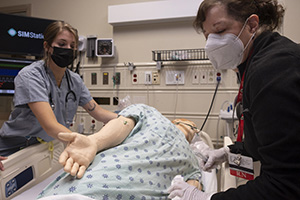 Understanding we would be limited on bringing learners to Jump, we researched digital platforms that could allow us to continue offering training programs. We also measured all of our physical spaces and mapped out how many people we could have in each room once we could reopen.
"That kind of presented challenges in and of itself, because some simulations require a certain number of people," said Josh Turner, simulation specialist at Jump. "For example, emergency medicine events typically call for four learners with at least one facilitator in the room. We had to get creative using rooms, like our briefing theater and lecture hall, which were not specifically meant for simulation."
Simulation specialists turned half-day events into day-long events and changed day-long simulations into multi-day simulations to keep groups of learners small. They also offered both virtual and on-site simulations, as well as hybrid versions of courses.
"We had our standardized participants act as patients during video appointment scenarios for learners to practice differential diagnoses," said Chris Larkner, simulation specialist at Jump. "We also had medical students and residents at Jump participating in simulations with our manikins while others watched over a live video feed. Those watching from home could see lab values, vital signs and imaging, and could offer feedback on how to treat patients."
At the height of COVID-19, Jump was able to offer learners the ability to practice CPR and ventilation skills, as well as placing central lines. Clinicians also had the chance to prepare for codes and rehearse talking with patients.
'Closing our doors was never an option'
In medicine, you never want to leave medical students, residents, nurses and others in the situation where they are doing any type of procedure for the first time on a real patient. That's why it was necessary for our team to do everything we could to remain a resource for both learners from OSF HealthCare, as well as students from the University of Illinois College of Medicine Peoria.
"COVID-19 showed us what we are capable of as a team," Josh said. "We learned how to be flexible and that we have the agility to change the way we have always done things. Going forward, I know we are more than competent to take on anything thrown our way."
Closing our doors was never an option for us. Our health care workers needed us as they remained on the front lines of care every day. Our medical and nursing students needed us as they prepared to meet the needs of patients in our hospitals and other medical facilities. And our community needed us to ensure our medical professionals had the tools they needed to deliver the best care possible.
FEATURED AUTHOR

Nikki Delinski , DNP, MSN, RN, is the Director of Educational Operations for Jump Simulation where she is responsible for the operational efficiency of the simulation center and sustaining quality education best practices. Nikki started her nursing career in Cardiovascular Intensive Care where she found her true passion for education.