March 24, 2022
Cancer is the leading cause of death in Peoria County and has been for some time. A major reason is that many residents, especially in communities that are historically marginalized, aren't diagnosed for preventable types of the disease until it's too late.
It's a pervasive problem that local health care institutions and public health organizations have tried to solve over the years. But now, they are combining resources and leveraging the creativity and passion of young minds to increase early screening in underserved communities.
In collaboration with a variety of groups, the OSF Innovation Design Lab is working with Bradley University students to develop solutions that will address health literacy and encourage people to get tested for certain cancers sooner. The goal is to come up with ideas by the end of the semester that can be presented to OSF and its collaborators for potential prototyping and use.
A collaborative effort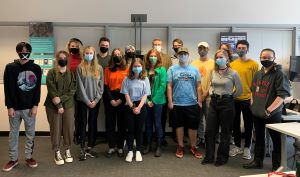 Scott Barrows, director of the OSF Innovation Design Lab, is leading the user experience design class at Bradley University where students work on a "real world" project that addresses an actual need. In this case, the undergraduates are using human-centered design principles to research, design and develop new ways of increasing early colon and cervical cancer screening awareness.
"While we began the class giving these students a crash course on these types of cancers, they are really learning the importance of empathy in the design process," said Barrows. "You can't create an effective solution without understanding why people in certain communities avoid preventive care like cancer screenings."
To help with voice collection, the class welcomed experts from the Peoria City/County Health Department, the University of Illinois College of Medicine Peoria (UICOMP) and OSF HealthCare to discuss the research they've done in underserved neighborhoods. This includes conducting interviews with focus groups on reasons they don't receive recommended screenings.
"Our research shows there is a lack of knowledge around how, when and why to get screened for cancer," said Sarah Donohue, PhD, director of Research Services at UICOMP. "And some reasons are more personal. Some are too scared to get tested and some have had negative experiences with health care in the past."
Beyond that, many individuals and families in these communities have bigger concerns they face on a daily basis like poverty, crime or determining where their next meal will come from. These are the many factors students must consider when creating solutions to this problem.
"The students are not working alone," Barrows said. "They are also receiving guidance and lectures from experts at the University of Illinois Urbana-Champaign Siebel Center for Design and the University of Illinois Chicago who have expertise in designing solutions for historically marginalized groups."
Bradley students have also heard from Mission Partners within OSF Innovation who are working on technology-based solutions for different projects. Four teams of user experience design students are working on ideas to increase cancer screening. They are expected to present their concepts in May.
What happens with the ideas?
Once OSF and its collaborators weigh in on ideas, they could work on building them out, prototyping them and testing them in targeted communities. There are also opportunities to apply for funding through the Jump Applied Research for Community Health through Engineering and Simulation (ARCHES) or the Community Health Advocacy (CHA) programs.
"Health care is complex and the problems we are trying to solve are challenging," Barrows said. "That's why it's important for us to combine our expertise with the talents of academic institutions to build innovative health care solutions."
Barrows' ultimate goal would be to create a consortium of health care design thinking with experts across the Midwest to work on complex challenges communities face.
Featured Author

Denise Molina-Weiger is a Creative and Digital Writer for OSF HealthCare, where she has worked since March 2015. She initially came to OSF to write about the work taking place at the Jump Trading Simulation & Education Center, one of the largest simulation and innovation centers in the world, and went on to become the Media Relations Coordinator for OSF Innovation which was developed to help the hospital system lead the way in transforming care. Before joining the OSF HealthCare team, Denise was a reporter for Peoria Public Radio for ten years, writing on everything from politics, housing and transportation issues to hospital care in the region.