March 26 marks the 100th day since MATTER opened its doors. Jump mentors and connects MATTER entrepreneurs with OSF HealthCare leaders.
May 26, 2015
Today marks the 100th day since MATTER opened its doors in Chicago to health care entrepreneurs. MATTER is an incubator for medical innovation, and gives opportunities for industry leaders to work directly with its more than 100 members.

Jump and OSF HealthCare are founding platinum partners of MATTER.
Care Transformation Solution Showcase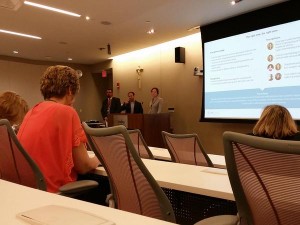 The first showcase was held earlier this month, and it involved three members of MATTER pitching their ideas to physicians and APNs who would potentially use their products in the hospital.

Anitha Rao-Frisc, MD, MA was the first to present her product, Neurocern. Neurocern is a discovery tool for patients and family members of dementia to better understand their condition. Neurocern helps provide better information to care providers by giving care suggestions.

Elaine Warren, MSC of SurvivorPlan presented next. SurvivorPlan empowers patient-centered, coordinated care through an online tool. Its platform looks at various conditions and helps care providers create personalized road care plan maps for long-term care needs.

The final member of MATTER, Regroup Therapy, headed up by David Cohn, spoke of their product, which helps people struggling with chronic conditions and mental co-conditions. Mental conditions create even greater costs for patients with chronic conditions. Regroup Therapy works to pair the right mental health provider with the right demographic region, and have a behavioral intervention with individual patients at the right time.
Up and Coming
The purpose of this showcase was to identify products and teams that OSF wants to include on design sessions that seek to transform health care. There will be two more showcases this summer, and the teams that are chosen will have their products integrated across the OSF Ministry.

"Today's event was a success," according to Warrens. "It was engaging, and we're already receiving good feedback from providers who are wanting more of these types of solutions."

Warrens anticipates connecting even more members of MATTER to OSF. In the future, OSF and Jump leadership will present quarterly lectures regarding various topics, offering even more networking and learning opportunities.

In the next month or two, the Jump Stage will be unveiled at MATTER. The Jump Stage is a simulation space designed for flexible and temporary setups for usability studies and prototype testing.

The past 100 days have been beneficial for OSF, Jump, and the members of MATTER to see emerging technology that we will help nurture into tools to transform health care.

Read Dr. Vozenilek's reflection on the importance of MATTER.