When we looked at how applied research could benefit OSF HealthCare, it was natural to consider a collaboration with the University of Illinois at Urbana-Champaign. We already had a strong partner in the University of Illinois College of Medicine Peoria and its faculty.
All we needed was access to skill sets health care organizations don't typically have to solve the everyday problems our Mission Partners and patients face. As a result, we signed an agreement with the U of I to establish the Jump Applied Research in Community Health through Engineering and Simulation (ARCHES) program.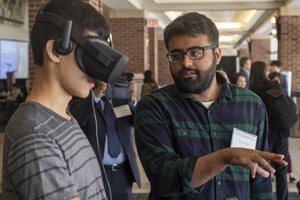 Eight years later and our collaboration with the U of I is still going strong. Jump ARCHES has awarded more than $7 million to more than 110 projects between our clinicians and U of I researchers, faculty and students that are advancing medical training and transforming the delivery of care.
We've established another endowment with the University of Illinois Chicago (UIC) to fund concepts between OSF clinicians and UIC faculty to improve health equity and outcomes in urban areas. And we are working on new agreements with Bradley University
and other institutions in the communities we serve.
A win-win situation
Through the Jump ARCHES collaboration alone, we've seen a number of ideas implemented within our Ministry to benefit both Mission Partners and patients. Some have been filed for patents. And in a few cases, these innovative concepts have been spun off into their own companies.
As we grow this programming to new universities and colleges, we can access expertise we don't have. We can better engage with the people who live around these institutions and gain a better understanding of their needs. We can also expand the type of non-clinical research we're doing.
At the same time, we work with academic institutions to ensure their needs are met as well. This could mean sponsoring capstone courses, bringing in OSF instructors to lecture on health care simulation, design, computer science or data analytics, or assisting with senior design projects.
Universities and colleges that collaborate with us receive insight into what's going on at the bedside and access to front line clinicians who can provide feedback on ideas. Their faculty and researchers can test concepts in our simulation center. We provide project management expertise to drive projects in the right direction. And there are opportunities to partner with us as we enhance the quality of our data.
We've also launched the Innovation Academic Incubator (IAI) to build a network of health care innovators where clinicians, faculty and students can easily find each other to build project teams.
Benefits for Mission Partners
Who better to come up with health care solutions than our Mission Partners on the front lines of care and operations? Through our academic collaborations, they can develop solutions based on the issues they see every day.
They can partner with engineers and others to make those ideas happens. And they can guide where health care innovation is headed instead of watching from the sidelines.
Overall, they can make a difference in health care through the implementation of their concepts.
FEATURED AUTHOR
Noël Adams is the vice president of OSF Innovation Academic Collaborations and Operations. In this role, she oversees academic institution partnerships, the OSF Innovation Labs, STEAM programming and other operations.
Noël received a Bachelor's in Business Information Systems from Eureka College. She went on to earn a Master's in Business Administration from Bradley University.