April 28, 2022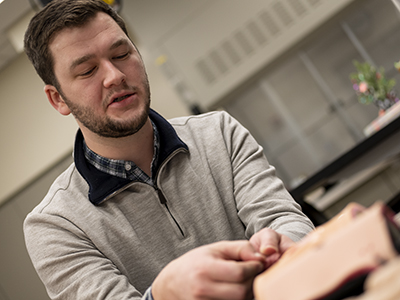 Nurses Amanda Nelson and Anthony Tiraboschi had a problem they knew how to solve. But the Clinical Education Scholars at OSF Saint Francis Medical Center didn't have the skillset to build what they envisioned.

"We heard from a number of nurses that the type of catheters they used to quickly empty patient bladders took 20 minutes or longer to drain, costing them valuable time to perform other duties," said Nelson. "As a result, we wanted to make the case for replacing the devices."

Their idea was to design a device that could replicate the internal pressure of the bladder in a consistent way. They would then use that device to compare the current catheter's performance against others in the market.

"We knew we had the right idea, but we didn't know how to even begin simulating a bladder that would give us the information we needed," said Tiraboschi. "As luck would have it, we ran into Jump Simulation staff at a vendor fair and learned about everything their engineers could do to help us with our project, including 3D modeling. From there, we got connected to the team."
A simple solution
Amanda and Anthony got the chance to spend a few hours with Jump engineers brainstorming and sharing ideas on how to simulate a bladder for catheter testing purposes.

"It was such an amazing and collaborative experience," said Nelson. "We were able to share the clinical side of what we were dealing with while the engineers walked us through their thoughts and started putting things together as we chatted. It was a lot of fun."

Jump engineers quickly created a low-tech design that consisted of a bucket, leftover parts from a trainer they built to prevent catheter-associated urinary tract infections and graduated pouring containers.

"We put this solution together in maybe ten minutes, but then we took some time to test it and ensure it would work the way Amanda and Anthony wanted it to," said Tate Ralph, an engineer at Jump. "It's interesting because often with engineering, people think we will design the coolest, most elaborate thing. But a lot of times, there are simpler solutions we can build. This was a really good example of that."

With this tool in hand, Amanda and Anthony were able to demonstrate to Infection Prevention that the current catheter took about 15 minutes longer to drain compared to another product.

"That team escalated it to leaders and we ended up getting the product switched across the Ministry," said Nelson. "As a result, we were able to save our nurses time when using this type of catheter and there's the possibility of reducing the infection risk that comes from leaving a catheter in a patient for too long."
Turning ideas into reality
Helping clinical teams make the case for new equipment is just one of the many ways Jump engineering helps Mission Partners across the Ministry.

With expertise in bioengineering as well as mechanical, electrical, software and basic design, the engineering team designs task trainers. They build low-cost prototypes that can be used to test with potential users. And they produce digital 3D models for surgical planning and patient education.

Do you want to know what Jump Engineering can help you? Reach out to the team today!