March 1, 2023

Members of Jump Simulation, a part of OSF Innovation, recently made presentations at the 2023 International Meeting on Simulation in Healthcare (IMSH).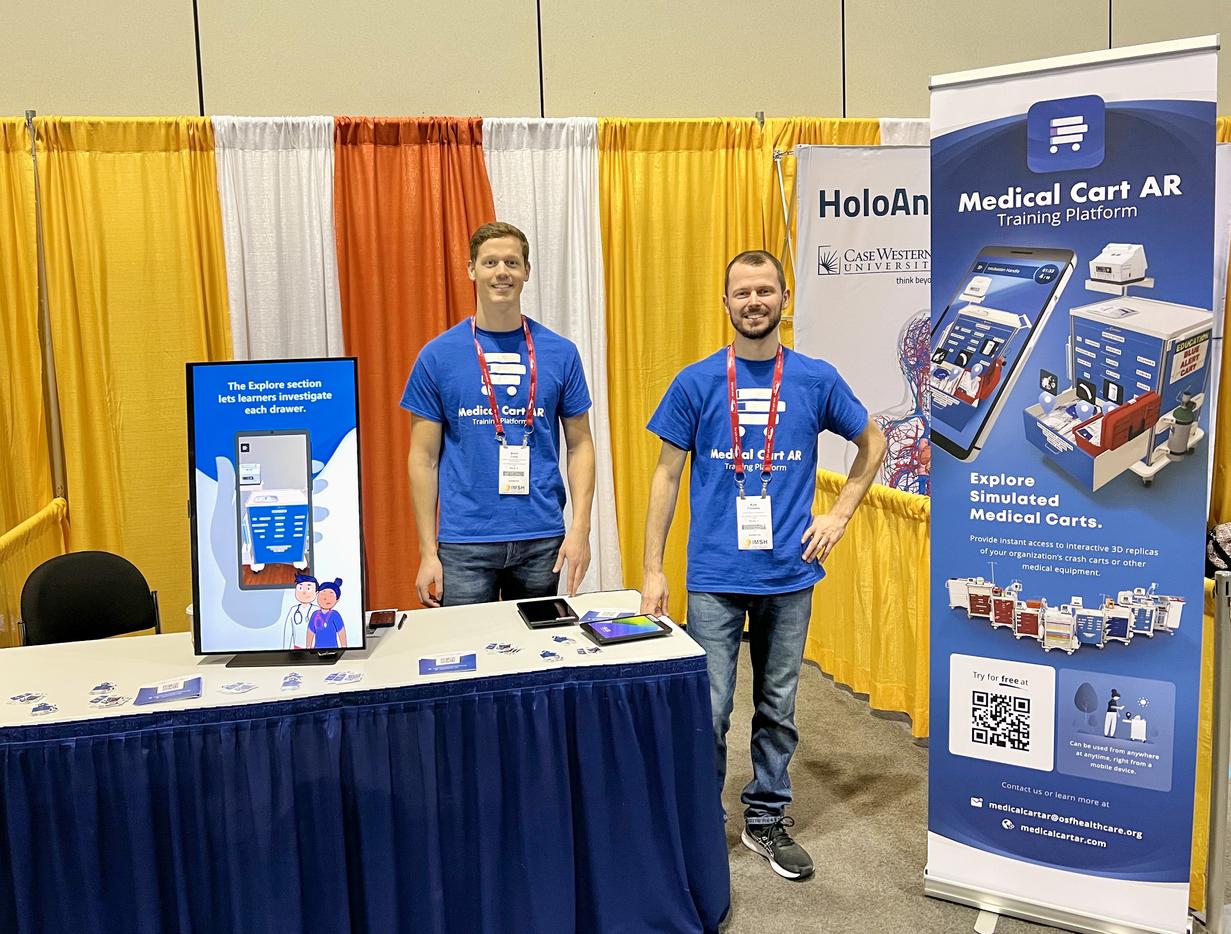 The annual conference is the largest gathering of simulation health care professionals in the world. It's an event where more than 4,000 attendees learn best practices from each other, find areas for collaboration and hear about the latest industry specific products.
There are well over 100 workshops and presentations over the course of three days. Twelve of those presentations came from OSF HealthCare and University of Illinois College of Medicine Peoria personnel.
Learn more about their presentations.
Hands-on workshops
Adapt consensus curricular guidelines for comprehensive training
Authors: Antoinette Golden, MD, Michelle Brown, PhD, Greg Podolej, MD, Kelly Roszczynialski, MD, MS, Mary Ellen Elias, MSN
Simulation fellowships and training programs have rapidly grown without an established standardized curriculum. The Formal Training Programs Affinity Group within the Society for Simulation in Healthcare recently identified common domains, subdomains and objectives through a scoping review of the literature and further refined these through a Delphi panel. This hands-on course provided a structured outline for developing curriculum to fit an individual simulationist training program.
Congratulations, you've been made a simulationist! Now what?
Authors: Greg Podolej, MD, Emily Griffith, Kimberly Sokol, MD, MS, Amerita Vempati, MD
This hands-on workshop provided an introduction to simulation for new simulationists, including discussions on simulation as an educational tool and what is necessary to run a simulation scenario successfully. As part of this event, learners got the opportunity to practice developing a sim from start to finish.
You've got it – flaunt It! Research metrics and advocacy
Authors: Rebecca Ebert-Allen and Safura Sultana, MBA
This interactive event presented learners with a blueprint for assessing the value of their simulation research programs and sharing that value with their stakeholders. The workshop provided tools and techniques to help with identifying and tracking key research program metrics that demonstrate productivity and added value to the institution, local community and global community.
Choose your own adventures: From novice to next step
Authors: Rebecca Ebert-Allen, Rachel Horn-Close and Meghan Hand
This workshop introduced the concept of different simulation career pathways and professional development styles that can lead from entry-level to leadership in the simulation setting. Learners were taught to identify their own career pathways, and how to use the GROW model to find actionable steps they can take to reach their goals. Learners were also given the opportunity to play a cooperative card game, developed by the presenters, to explore their goals and priorities in their simulation career.
Organizational needs analysis: Start with why?
Authors: Lisa Barker, MD and William Bond, MD
As part of this workshop, Drs. Barker and Bond taught learners how to discover organizational gaps in preventing hospital-acquired infections using simulation. Participants were introduced to a six-factor framework for gap analysis in the clinical space, and given the opportunity to apply the new knowledge in simulation encounters designed to pinpoint inconsistencies in clinical performance.
Plan for ROI: Build value into simulation program development
Author: Lisa Barker, MD
Facilitators: Kerri Bolstad, MSN, William Bond, MD, MS, Nancy Bardugon, MSN, Jared Henricksen, MD, MS-HPEd, Connie Lopez, MSN, Safura Sultana, MBA, Paul Leonard, MD, PhD, Sarah Minson, MSN, Karen Josey, BSN, MEd
The concept of "return" for effort is critical for the sustainment of simulation programs and centers worldwide. Using game theory, this workshop introduced simulation educators and administrators to a framework for demonstrating levels of programmatic value that has been applied at a large-scale simulation center, culminating in a Return on Investment (ROI) calculation where appropriate.
Practice what we preach: From sim space to workplace
Author: Lisa Barker, MD and Nancy Bardugon, MSN
With simulation's direct linkages to a full spectrum of clinical learners and practitioners when affiliated with a hospital or health care system, simulation leaders are well-positioned to influence the evolution of a traditionally self-protecting, defensive culture into an open, psychologically safe, personally and professionally fulfilling one. Drawing on the available literature and center experience, the presenters facilitated participants' assessment of their own communication skills and cultivation of a psychologically safe culture.
Presentations
Sub-task cycling to maximize your teaching - Let's get chunky!
Authors: Greg Podolej, MD and Emily Griffith
Health professions educators are faced with increasing pressure to be efficient. Learners have a finite amount of working memory that can be devoted to encoding new information. This group presented a novel variation of chunking called subtask cycling that can increase educational impact.
Rapid Cycle Deliberate Practice is more than repetition: The role of subtasks in Mastery Learning
Authors: Greg Podolej MD, Yoon Soo Park, PhD, John Vozenilek, MD and Ara Tekian, PhD, MHPE
This poster presentation highlighted research on why Rapid Cycle Deliberate Practice may be a superior teaching modality. As part of this approach, learners are paused when they make an error during simulation, the error is corrected and the scenario is restarted from the very beginning. Traditionally, the debriefing process takes place after a simulation is completed.
Panel discussions
Haptics and virtual reality: Add the experience of touch
Authors: David Hananel, Thomas Belda, MS, Angela Robert, William Bond, MD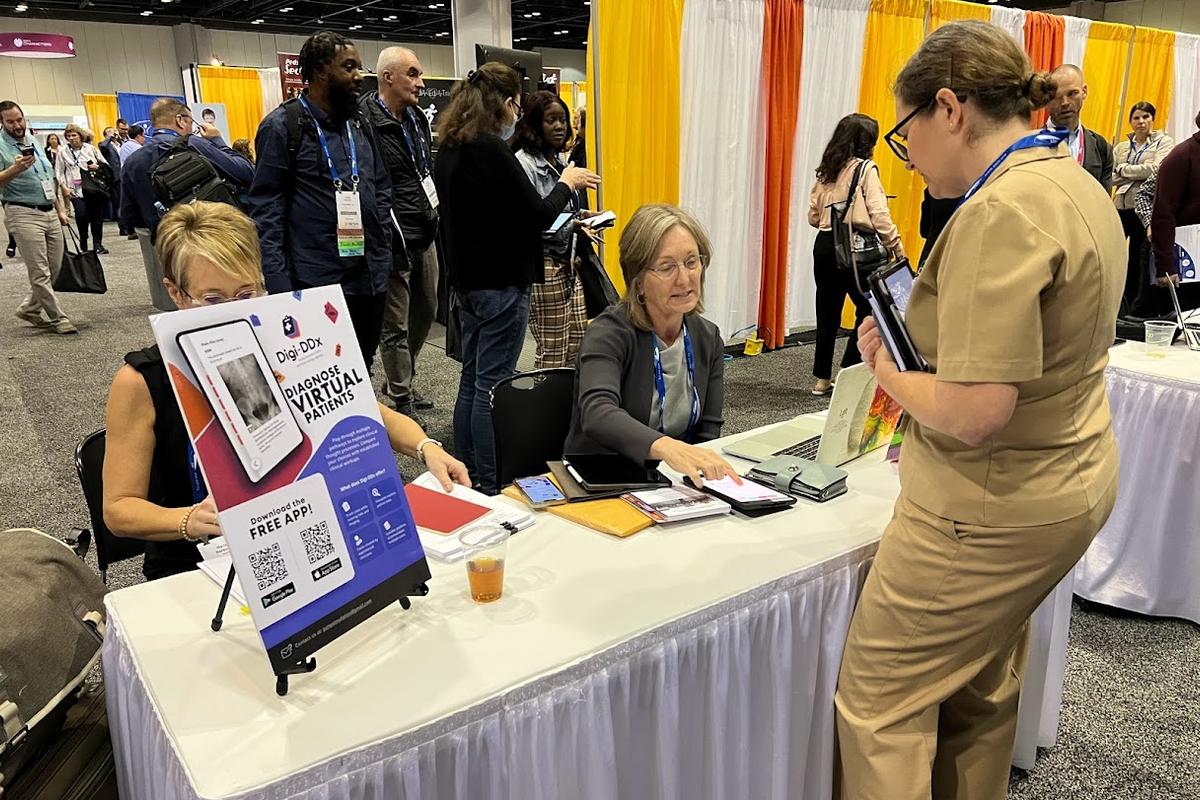 Haptics are integrated methods for the inclusion of touch sensing in simulation, presenting engineering and educational challenges. This panel discussed current leading edge applications, along with strengths and limitations and made suggestions for haptic applications use cases.
simVentors Showcase
Digi-DDx: App-based training for clinical reasoning practice and assessment
Authors: Lisa Barker, MD and David Pinson, DVM, PhD
Clinical decision-making is a complex skill due to many clinical decisions that may affect outcomes of disease diagnosis and management. During the simVentors Showcase, this group presented the Digi-DDx, a mobile application that gives medical students the chance to practice diagnosing a patient by choosing the right tests to get to the right diagnosis in a safe space.
Speedy feedback: Automated grading of post simulation written chart notes
Authors: William Bond MD, MS
Project team: Suma Bhat, PhD, Vyom Thakkar, MS, Jianing Zhou, doctoral candidate, Rebecca Ebert-Allen CHSE, Pooja Bhagchandani, Rebecca Ruger, BS, Yoon Soo Park, PhD and Rachel Yudkowsky, MD
Traditionally, medical students, residents and other clinician learners practice documenting patient information during simulated events. They then must wait to receive feedback from faculty on their medical note-taking, which can take weeks to complete. During the simVentors Showcase, this group presented an automated grading system to provide feedback on patient note-taking. This demonstration resulted in an award for "Best Approach" to solution design.
Connect with us
If you are interested in learning more about these workshops, presentations and technology showcases or want to work with us, get in contact with the Jump Education and Research teams.
Featured Author

Denise Molina-Weiger is a Creative and Digital Writer for OSF HealthCare, where she has worked since March 2015. She initially came to OSF to write about the work taking place at the Jump Trading Simulation & Education Center, one of the largest simulation and innovation centers in the world, and went on to become the Media Relations Coordinator for OSF Innovation which was developed to help the hospital system lead the way in transforming care. Before joining the OSF HealthCare team, Denise was a reporter for Peoria Public Radio for ten years, writing on everything from politics, housing and transportation issues to hospital care in the region.