Jump Simulation is building mobile applications that uses augmented reality for medical education.
DEC 6, 2018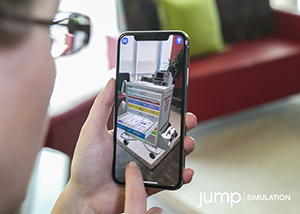 If there's one thing that's certain in medicine it's that our doctors, nurses and other clinical professionals are never done learning. They are required, by law, to maintain their competencies, and they are also
expected to keep up with the ever-changing developments in their respective fields. While much of this continuing education takes place at a variety of educational institutions and medical education agencies, many hospitals offer different types of training for their clinicians as well.

The current model for this type of education typically includes clinicians taking time out of their busy days to participate in bedside training, classroom-style learning in a conference room with a large group or physical simulation that may take place off-site. This also requires the need to find space for education and paying tenured staff to run these courses. That's not to mention that professional clinicians want to keep up with their competencies in ways that take into account their work experiences and allow them to learn in different ways and at their own speed.

What would it be like if the future for competency assessment or continuing education was as simple as picking up your phone? That's the question we are trying to answer with the development of multiple apps that use augmented reality to manifest objects into any setting. Learners can bring these items up with a click of a button at work, home or even a coffee shop to interact with them, explore their contents and participate in scenarios where these products might be used.
The Pediatric Code Cart App
In the event of an emergency, all U.S. hospitals are equipped with mobile sets of drawers on wheels called "crash carts" that include the materials, medicines and devices necessary to potentially save a person's life. The carts used for pediatric patients are a little different in that they are organized, by color, to correspond to a patient's weight, a method best known as the Broselow system. The color-coded "Broselow Tape," or weight-based measuring tape, helps clinicians quickly determine the height and weight range of a child based on their length, and choose the correct dosage of medication and resuscitation equipment for a patient of that size.

The Broselow system is used around the world and helps health care systems react quickly and prevent mistakes on young patients in need of emergency care. That's why hospitals require providers to practice using the tool, especially those who work in low-volume facilities where they may not handle many pediatric emergency cases.

Educators currently use real crash carts for training purposes. However, clinicians are sometimes reluctant to open the drawers because once you break them open, they have to be double checked, re-stocked and put back into commission. Instructors also resort to using fake crash carts that may not be stocked appropriately per changing standards.

Developed at the Jump Trading Simulation & Education Center, a part of OSF Innovation, the three-dimensional, interactive Pediatric Code Cart app allows learners to refresh their memories of what's included in a Broselow Cart, how it works and how to use it in the event of a pediatric emergency. The app gives clinicians the ability to insert a pediatric code cart into any environment to explore its contents and pull up detailed information about what's inside the cart—all at their own pace.

About 200 nurses within OSF HealthCare have had the chance to test the app. Based on feedback, the team working on the project plans to expand the technology so that the app can provide users a meaningful view of their performance. The app will also collect data about learner encounters, identifying what was looked at and measuring performance based on timed searches and other complex scenarios.
Should We Build ALL THE APPS?
While mobile applications are relatively inexpensive to build, we want to make sure we use this method only when it's appropriate. For now, we are looking at the regulatory requirements our clinicians have to comply with and figuring out whether these might lend themselves to education using augmented reality. We also have to identify priorities that help OSF HealthCare meet its Mission of serving patients with the greatest care and love, and how we build learning objectives appropriate to this new disruptive technology.

On the other side, we are also researching the value of using this type of educational modality. For example, we see an opportunity to repurpose our bright educators in partnering with us to build new apps. This frees up their time and allows us to continue innovating the way we provide education to our medical professionals. It also allows our health care system to reach a number of learners, at the same time and at a reduced cost, allowing them to stay current with their competencies.
Using AR to Improve Patient Education
We've mostly been working on ways to use augmented reality to address medical and nursing education. But we believe we can take this idea a step further into the patient education space.

Research shows that those who've been discharged from the emergency room or a hospital stay or who have had a loved one deal with this situation feel stressed by what's ahead. Not only are there questions about what medications they should be taking, but maybe they are being sent home with medical equipment they will have to operate for the first time.

In the future, we envision augmented reality apps we can send home with our patients that allow them to watch tutorials and then practice using a variety of medical equipment. However, we wouldn't let them leave without getting that hands-on experience first and they will always have the option of calling a health care provider for more complex questions. Augmented reality empowers individuals with unique learning opportunities allowing them to approach their own care proactively.
FEATURED AUTHOR

John Vozenilek, MD, FACEP is the Vice President and Chief Medical Officer for Simulation at Jump. Dr. Vozenilek provides central coordination and oversight for OSF HealthCare undergraduate, graduate, interdisciplinary, and continuing medical education programs.