February 25, 2022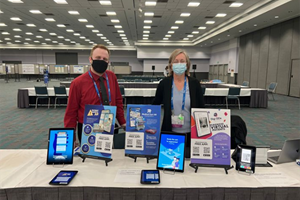 Whether it's creating a new way to make cuts and bruises more realistic or discovering novel methods of education and training, the annual International Meeting on Simulation in Health Care (IMSH) spotlights a variety of health care simulation innovations through its SimVentors Showcase.
The Jump Simulation Medical Visualization team was among about 20 groups chosen from around the world to present. This gave us a chance to get some of our mobile apps in front of hundreds of people who attend this annual conference.
The goal was to gain the feedback we need to eliminate barriers to our learning experiences for both our Mission Partners and external users. This also helps us strengthen our approach to creating new education products that can be used by different institutions and potentially improve patient safety outcomes.
A focus on reducing medical errors
IMSH chose our Digi-DDX and Patient Safety AR apps to be on display during the SimVentors Showcase. We also took the opportunity to present our Medical Cart AR app. With an ongoing focus on patient safety among health care educators, we saw a lot of interest in how our products can help reduce medical errors.
The Digi-DDx mobile application gives medical students the chance to practice diagnosing a patient by choosing the right tests to get to the right diagnosis in a simulated space. With this information, these novice learners have the opportunity to prioritize treatment choices once they've arrived at the correct diagnosis. At the same time, learners get a better understanding of the costs of over-testing.
Medical Cart AR uses augmented reality to scan a user's environment to project a fully stocked virtual medical cart from a mobile device. This allows learners to become comfortable with the content of a variety of carts, reducing the time it takes to find critical items during an emergency situation. Any organization can subscribe to have a custom replica of their crash cart made available within this app.
Our Patient Safety AR app is a fast-paced game that gives medical professionals the chance to spot safety hazards in a series of virtual patient rooms. The content focuses on preventive measures for stopping patient falls, as well as numerous other hospital patient room mishaps.
All of these apps are available free to our Mission Partners as well as other medical professionals outside of OSF HealthCare. You can explore all of the education products we offer on the OSF Innovation website.
We want your feedback
If you were at this year's IMSH conference or are just trying out one of our apps for the first time, we encourage you to provide feedback. We routinely use this information to address issues and improve the educational experience of our learning opportunities.
If you are interested in customizing one of our apps for your health care or academic institution, please contact Megan Genzel for more information.
Kyle Formella & Jakob Plotts
MEDICAL VISUALIZATION/USER EXPERIENCE DESIGN