Jump Simulation is expanding its Fellowship program to any clinician interested in a career in medical simulation.
October 7, 2021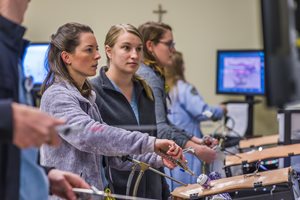 After many years of focusing on interprofessional education and faculty development, I am excited to add the role of director for the Jump Simulation Fellowship program. Launched in 2016, the Fellowship in Simulation-based Education began as a two-year program offered to graduates of physician residency programs interested in a career that includes working in a large-scale simulation center. The fellowship is also open to those with terminal degrees such as a doctorate or Doctor of Nursing Practice.
We are pleased to accept applicants for clinical fellow positions as well. Clinical fellows are those who do not possess a terminal degree, but have a deep interest in simulation-based education, research and innovation. A bachelor's degree is not required for acceptance as a clinical fellow. However, applicants should have a license, registration or certification as a health care professional, as well as a willingness to stretch oneself professionally and invest the time required to learn.
It is not expected that learners will bring with them knowledge of the theoretical foundations of simulation or research! Fellowship faculty are committed to meeting learners where they are as they begin the program. Competencies required for graduation are the same for fellows and clinical fellows.
The path to fellowship
There are three paths to completing the fellowship and clinical fellowship training. One is a two-year experience that also leads to a Masters in Health Professions Education (MHPE) from the University of Illinois-Chicago. The second is also a two-year experience that includes significant focus on educational frameworks and simulation-based research and education.
These portions are deferred in the former path as it is covered in the MHPE program. A one-year track is also available to those who can demonstrate fellowship graduation competencies through prior course work associated with a relevant master's degree, clinical doctorate or research doctorate or non-credit study to improve teaching.
An additional path to development as a simulation professional also exists now. I am pleased to announce that a Certificate in Simulation program has been created. This program defers the research component and some of the theoretical pieces while maintaining focus on practical "how-to" information and practice.
Since debriefing is at the heart of simulation-based education, it is important to note that all programs require the same amount of mentored debriefing experience. A bachelor's degree is not required to apply for the Certificate in Simulation program.
Non-clinicians will be considered on a case-by-case basis for the certificate program. Physicians completing a clinical fellowship in addition to the Simulation Certificate program will have one year to complete the program while non-physician certificate candidates will have six months.
In the past, we launched just one or two fellowships per year in July, however, that will be changing. Early this fall, there will be a call for Letters of Intent for those wishing to apply for the January, 2022 launch of a cohort of three new fellow or certificate candidates. Application deadlines for January, 2022 admission will be announced soon. The fellowship, clinical fellowship and certificate programs are designed to accommodate a total of six learners at any point in the calendar year.
The curriculum
The fellowship and clinical fellowship programs base much of their curriculum on the Foundational Elements of Applied Simulation Theory (FEAST) developed at the University of Ottawa in Canada. The criteria suggested for competencies graduating fellows must demonstrate, as put forth by the Society for Simulation in Healthcare, has evolved over the past several years. Our FEAST-based curriculum meets or exceeds all of them.
While the hands-on work of this program will take place at the Jump Trading Simulation & Education Center and in OSF HealthCare clinical spaces, there will also be structured, self-directed learning opportunities with many faculty touchpoints along the way. Moving to this hybrid delivery model will make it possible for more people to be take advantage of the program.
The why
There were many reasons for these updates to the program. Ultimately, we want to be confident that graduates of both the fellowship and certificate programs are prepared to develop, deliver and debrief world-class simulation experiences for learners. We want to further ensure the graduates of our fellowship are prepared to assume leadership roles as simulation-based educators and researchers in simulation centers throughout the world.
Featured Author

Ann Willemsen-Dunlap Ann Willemsen-Dunlap is the Director of Educational Development. A nurse anesthetist by clinical training, she is responsible for the development and execution of innovative faculty development programming and interprofessional education at Jump. She gained her initial experience in simulation, teamwork training and interprofessional education while co-Directing the University of Iowa Department of Anesthesia's simulation laboratory. She became part of the Jump team in March 2013.