A top leader at OSF, Michelle Conger, discusses how innovation is at the center of transforming health care delivery within the system.
October 1, 2015
Years of data have indicated one thing: the current health care economic model is not sustainable. There is too much redundancy, it is too expensive, and it doesn't truly revolve around delivering the highest quality of care to patients.

It is a model that has to change and OSF HealthCare is at the forefront of this transformation. That's why we've accepted the responsibility of being one of a handful of pioneer Accountable Care Organizations nationwide.

It means we are working hard to find ways to deliver more coordinated care to the patients we serve at a lower cost. Our ultimate goal is to ensure every individual in our service regions is receiving the right care, in the right place, at the right time.

It's not an easy task. We're shifting our entire organizational strategy and integrating innovation throughout the Ministry is a large component of that.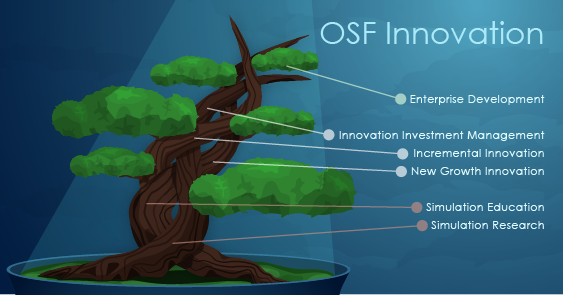 OSF Innovation Model
Innovation really isn't a new concept for OSF. Our founding Sisters have continued to be visionaries in the delivery of health care for more than a century. We want to ensure OSF is able to continue serving patients with the greatest care and love for another 100 years by transitioning the system into the future state of health care.

We've established an Innovation Model to fundamentally transform the organization. This strategy is made up of six interconnected pillars.

The first two, Simulation Education and Simulation Research, live within the walls of Jump Trading Simulation and Education Center. The activity in this facility can truly be diffused across the entire organization and is the core of the overall model. It's focused on improving outcomes and lowering costs through innovative training of medical professionals. Beyond that, Jump is a place where clinicians and engineers work together to develop groundbreaking processes, technology, and devices to transform health care.

The third pillar in this strategy is about Incremental Innovation. The Performance Improvement team at OSF is responsible for helping leaders implement the functional transformation taking place across the Ministry. There's always room for improvement for any health care system, and the PI team is crucial to enhancing processes throughout the organization.

Pillar four is New Growth Innovation, and centers on changing our care delivery business model to achieve more rapid population health management. The Care Transformation Model is launching first in six primary care practices and will eventually expand throughout the rest of the Ministry. We want to be connected to developments as they happen.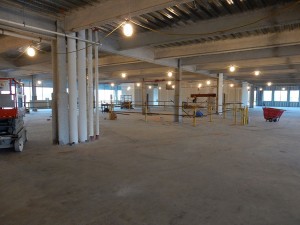 To achieve this, we're partnering with companies working on new technology solutions that can be infused into this new care delivery model. We want to be connected to new technologies and processes as they happen. We won't just be looking for health care solutions from outside of OSF. We are developing a method for employees across the health care system to submit ideas to improve the work we do every day.

That brings us to the 5th pillar in the innovation strategy, Innovation Investment Management, where we can potentially provide financial support to new companies and/or employee ideas whose solutions could be implemented within OSF HealthCare. Investing early gives us the opportunity to shape the direction of these technology platforms and devices to suit our needs.

The final pillar in the Innovation strategy is Enterprise Development. This is where ideas for health care solutions end up as they move through the Innovation Model. For example, SIMNext a commercial spin-off from Jump, was formed to specialize in the creation of exportable and affordable medical simulation training devices that result in more efficient and higher quality patient services.

The ultimate goal is for a majority of these ideas to get licensed and sold to establishments specializing in health care solutions.
This Innovation Model also works in concert with our Analytics, Education, Research, and TeleHealth Divisions with support from Information Technology, Marketing and Communication, and the Supply Chain. Many of these departments, including Performance Improvement and the ARCHES program, will soon move to the 3rd and 4th floors of Jump Simulation Center.

It will take these groups working together, in a collaborative space to help shape our future.
Future State of Health Care
The implementation of the Innovation strategy has been in the works for some time, but this will be a journey. We are truly changing the culture throughout OSF, and our patients will recognize the difference.

They'll see that our clinicians want to build relationships with them sooner to prevent hospitalizations in the future. Rural residents will find that they can get the same level of care no matter where they live. And the elderly and frail will find that OSF is working to keep them at home longer by utilizing technology to deliver care.

The work we are doing today will make our population healthier and our system stronger.