Simulation Specialist Chris Larkner discusses the growth of the pediatric in situ program.
APR 17, 2018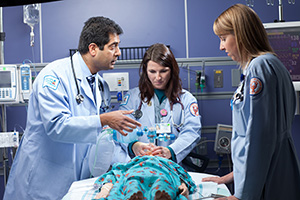 With a vision to improve patient outcomes and lower the cost of health care through education and training, Jump Simulation has successfully offered world-class learning opportunities to all levels of health care professionals over the last five years entering into our sixth.

While much of our work takes place within the Jump Trading Simulation & Education Center, there are benefits to bringing our efforts to facilities throughout the OSF HealthCare Ministry. Called in-situs, these simulations allow clinicians to practice realistic medical scenarios in their own clinical environments, followed by focused feedback in the debriefing process.

The pediatric in situ program focuses on ensuring our hospitals and other clinical spaces have the education, tools and resources to treat pediatric patients. The success of this particular effort has increased the number of events offered a year from 25 in 2013 to 80 in 2017, resulting in a 220% growth in our pediatric in situ programs. Furthermore, 2018 already shows promise of continued growth. It has also generated new in situ curricula, both regionally and locally, focused on everything from emergency services to primary care.

By implementing these educational opportunities and collaborating with our Mission Partners throughout our ministry in Illinois and Michigan, we are ensuring that each of our OSF HealthCare facilities are offering the same high standard of care no matter where they are located.
What's New?
One of our newest pediatric in situ programs is the pediatric critical care day series which takes place at the OSF HealthCare Children's Hospital of Illinois. This course was designed to help orient and educate nurses who will treat pediatric patients at the facility. Many of the learners will be working in either the pediatric intensive care unit (PICU), pediatric intermediate unit (PIC) or Hematology/Oncology units in Peoria.

Children are not just small adults. Practicing medicine in the pediatric environment requires not only passion from all of our providers but specialized training. The course is three Thursdays over a span of three weeks and is divided up into respiratory, neurological and cardiac emergencies. Learners spend most of each day in lecture and hands-on skills sessions. The three-days of training end with two scenario-based simulations where the nurses apply and reinforce all of the content they've learned.

Faculty from the pediatric floors choose cases nurses will commonly encounter in the pediatric critical care setting, such as severe asthma (respiratory focus), seizures (neurological focus) and cardiovascular disturbances (cardiology focus).
In Situ Support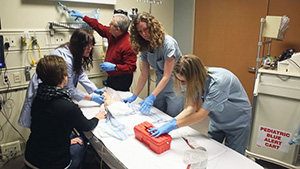 It's our job as Simulation Specialists to run these scenarios in support of the Pediatric Educators. We supply and operate different types of manikins, so learners gain experience treating small patients in different age groups. We also bring in Standardized Participants (SP) to play the role of clinicians or even family members.

Both SP's and Simulation Specialists may collaborate with the faculty in offering focused feedback to each learner from the cases they encounter based off of our observations with faculty members and the objective feedback from the manikin.
Currently to date, about 60 nurses have gone through our pediatric critical care simulations. This experience gives them the opportunity to practice with pediatric care in a safe environment before caring for real patients.

We expect to continually update the three-day course and expand it as the need for new staff grows. With our in situ program reaching different areas of the Ministry, including Rockford, Alton, Galesburg and Bloomington, our patients can expect the same high level of care at every OSF facility.
FEATURED AUTHOR

Chris Larkner has been a simulation specialist at Jump since October 2013. Chris is a licensed paramedic and served the Peoria area from May 2011 to June 2017. He is currently a part-time paramedic for the Village of Morton Fire Department. Chris studied Microbiology and Sociology at Western Illinois University.